Is Your Post Card Filled?
Value and Romance on a Small Bit of Paper

You see them around all over the place, now mostly in tourist travelled trading places, guest shops, souvenir shops, and landmarks and you might have heard people telling you to send in a card with your name, address and current phone number to various places.
(image to right -- image from Image*After¹) Of course you have seen the business reply cards in magazines and as warranty registration cards. Of course I am talking about postcards -- something that has been with us for over a century now. They officially came into being in 1861 -- developed by John P. Charlton from Philadelphia who transferred his copyright to H.L. Lipman -- "Lipman's Postal Card, Patent Applied For". Governments took over, including exclusive right to call them "Postcards" in 1893.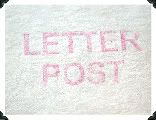 What is the value of a postcard? They are a very simple way to send a message by post for one thing and often they can be sent at a lower price than a regular letter. Today the cost to mail one is not too much different from a letter and of course anyone can read what is written on them. My Mom used to say that the person on vacation sending you a postcard -- or post card -- most often already had returned home by the time it reaches its recipient because each person in the post office who handles it take a moment to read it.
(images above from A Brief History of Post Cards²)

I imagine there are no secrets in a post card... unless you put it into an envelope or parcel or deliver it by hand.
But postcards have something special to them, mailed or not. In picking out a postcard to send someone, you are in a foreign location perhaps, maybe on vacation, maybe on business, but taking a few moments out of your day to think of others. I am getting away from the business sorts, like business reply mail and warranty cards here. They also are something from that place although it is possible to order postcards of exotic locations from the comfort of your home. A person might take their own photographs and write something on the back of them as mementos to send or keep, but still there is an interesting feeling with postcards.
Postcards historically are of values in that they capture a bit of a time and place and sometimes sentiment and feeling of that time. They trace the progress of a community with their snapshots of buildings and roads. Even showing one thing they often show others. A shot of a building might also show cars and people in it and give a glimpse at how they lived. If you look at a postcard from two different periods you might see how telegraph wires were added to be replaced by telephone wires to be replaced by underground wiring.
Postcards could be "wishes" of places a person wanted to visit or things they wanted to purchase or they might be telling of where they finally got or what they got. Businesses have often created PR with postcards and often very artistic ones.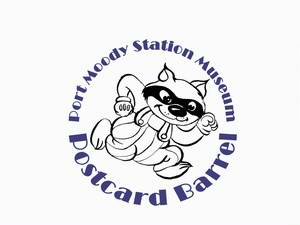 You can find Canada's official Postcard Barrel at the Port Moody Station Museum. Deposit or pick up unstamped postcards during Museum open hours for hand delivery around the world.
Some subjects of postcards: Distant places, Architecture, Vacation Destinations, Advertisements, Street Scenes, Artwork, Landmarks, Cities, Towns, Wars, Heroes, Events,  Politics, Celebrities, and probably other subjects.
Our museum -- The Port Moody Station Museum³ (image to right) -- has a "Postcard Barrel" which is Canada's Official Postcard Barrel! I know there is one on the Galapagos Islands as well. They are an odd sort of thing, you drop a post card into it that you want sent somewhere in the world and people visiting have a look through and pick out ones close to where they are going and hand-deliver them. (see inset left)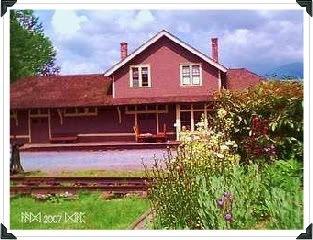 You can always send an email, or take a picture to share, or buy postcards to take with you and give to friends -- but to mail it from afar, where it takes on a postal cancellation stamp, and perhaps a local stamp as well, and travel through the postal system until it reaches a friend's home and hand -- that ads something special and romantic to the whole thing. It is a bit more than a photo or a letter. It is a special souvenir not only of a place, but a time and a person.

Later!
~ Darrell
136.
__________
¹ Image*After Unattributed images from Image*After.
² "A Brief History of Postcard Types" Stefano Neis - Yahoo! GeoCities/Heartland/Meadows.
³ "The Port Moody Station Museum" 2734 Murray Street, Port Moody, BC

"Why Use A Postcard" Anders Eriksson - Post Cards usinfo.info

"History of Postcards" Emotions Greeting Cards.