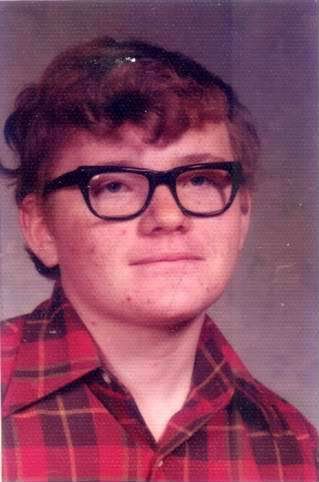 Boys and Their Toys Sometimes Don't Change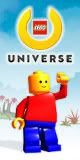 Now perhaps it is true that as the boys grow to men the toys just get more expensive, but I think that the saying has more to do with instead of there being bicycles there are cars. I am thinking of adults who think fondly of some of their childhood toys.
I have written about my own fond memories of Lego blocks (image to right -- image from Lego.com)and
Plasticine modelling clay (image to left -- image from Mastermind Toys)already, but I also have fond memories of other toys.
There were my
Tinker Toys (image to right -- image from Hasbro) which are the rods and disk and drums of wood that you join together to make structures. They could even be motorized and could be substantial in size if you engineered them correctly. I tended to build... space ships and submarines... with them...

There was the original
GI-Joe (image to left -- image from ComicBookMovie.com) which of course was the 12 inch (1:6 scale) action figure with fully poseable limbs and uniforms and equipment to scale. Mine mostly was used as a rescuer or explorer and never really as a soldier. I had a "frogman" suit for him and made a few spacesuits.

There was also my Best Friend Brother's
Mecanno Sets (image to right -- image from Meccano Canada Borgfeldt (Canada) Ltd) which were mechanical building toys made of metal with perforated strips and sheets; rods, pulleys, and wheels; and nuts, bolts, and washers in addition to a few wrenches and screwdrivers. They also sometimes included motors either battery powered or wind-up -- although my friend's brothers either didn't have them or wouldn't let us have them to use. We would build robots and spaceships and other vehicles with them... but mostly robots.

Those are among the other toys of my childhood and youth I sure seemed to want to play with spaceships and astronauts; submarines and aquanauts much of my youth -- and much of the time wanting to build. I had other toys too, but often eventually adopted them to those same two themes somehow.
Still when I had grown older -- over 21 -- and I found myself sitting with a large set of "Space Lego" I found I had great fun creating spaceships once more and it was even more fun with the new parts that came with the new sets. A younger cousin was visiting from out of town and brought his rather impressive (to me) collection.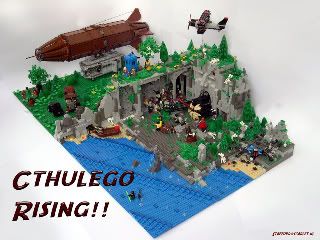 What got me thinking about this was an image I stumbled upon using Stumble Upon. It was of a diorama-like setup that is very impressive looking. (image to the left -- image on cthulhuland 3) It is based -- I think -- on a Call of Cthuluu game, though it could be a story or comic to do with the mythos created by H.P. Lovecraft for his books. I'll link the image here to the originating page, but I can't find more than the link to the photo rather than the page that the photo might be included on. In case things move around and not to be stealing bandwidth. You can find a copy of the image here: cthulhu-lego.jpg, 1200x900 pixels
It is a very impressive diorama and I wonder just who might have put it together. I suspect that whomever wasn't a young kid and perhaps not even in their teens.
I think some adults stick with hobbies like Lego as an adult and build great things with them. Just as there are Etcha Sketch artists out there (you can look up that toy yourself) there are many toys I think that still captivate the young at heart.
I would like to do some diorama work myself using the art techniques I have learned combined with what I have learned about miniature painting and model railroading. I would like to bring in my computer graphic and design skills as well. I once thought about making my own model spaceships too, but why stick with Lego or Meccano, why not buy plastic sheeting and light metal to do work myself. I could get a few light tools to work with lightweight metal and plastic. I could buy nuts and bolts. I have an artist's skill to be able to hand craft things as well through sculpture and carving. I know a bit about mould making and casting too, though not nearly enough about pewter or brass casting... well next to nothing about brass casting and little about pewter other than a rough knowledge of how.
Still only slightly different toys than I tended to play with as a child. I want to make scale spaceships and submarines. I would like to make them sturdy enough to handle and detailed as well with working parts like hatches and ports.
I do think that adults can do pretty impressive things with "children's" toys. Maybe some day if I catch some more on Stumble I shall post links to them here.

Later!
~ Darrell
78.