I'm Not the Which Doctor!

Okay just for a bit of fun I went to a site called Meez and created my Meez Avatar. (image to right) It is one of those 3D virtual things. I don't know a lot about it though I believe it is a social networking site with the ability to create 3D avatars as it's Hook. Call me boring, but when I get onto some of these sites I like to see how close I can get to a self portrait.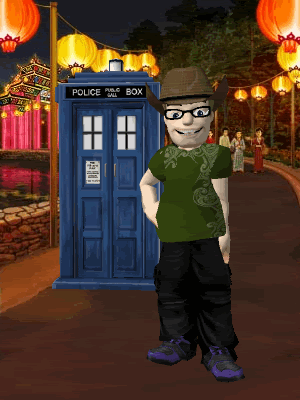 Okay, I also like to have a little fun. When I created my Avatar I noted a lack of a background and among the free ones found a neat Summer Lantern festival one. Then I went and found they had animations and I looked at them seeking an interesting "free" one. You pay points and they give you around 3000 to start somehow... or did I fill out their survey to get them?
I tripped over the "Blue SF Box" among their animations and even though it was 200 or 250 points thought I really had to have it. I have always fantasized about taking on the "part" of the Dr on the series.
Anyway I thought the "Blue SF Box" fit in great in front of the Summer Lantern Festival background. I was all set to post it here when I realized I forgot my glasses! I went back and got them so I could post this.
It is sort of cute and a Summer Diversion. I likely won't be making too much use of it as a Social Networking Site, though I might have a look around to consider. I find I have too much with what I have on my plate. Perhaps I'll put the smaller version in the margin? The one I have posted here to the right is the full sized one. They have a smaller one. Oh and I put this copy on my Photobucket so it won't change and confuse you all if I change the background and animation stuff. The margin one... that I might leave connected so that you'll see the current
Meez Avatar (image to left) I have. I shall still have to see about setting that up! It is the one I have included here. To start it will look like the big one. But later on it might be different if I alter my Avatar.
My one grumble with Meez is that their site will not work with Firefox on my MacBook. Not sure about Firefox on the PC. I have to go to my Safari Browser on my MacBook to access the Avatar Creator and other features on Meez. Still it was entertaining.
So here is that Avatar!

Later!
~ Darrell
PS the Animation is longer on Meez and shows me jump in to the "Blue SF Box" and it disappear and travel through some sort of wormhole dimension only to reappear with me coming out again to return. They are working on allowing the larger animation to be exportable. But it would be a bit too big for blogs and such as the GIF files used.

74.