Bridges Bridging More Than Just Gaps

I was web surfing a bit today and using StumbleUpon when I came upon this great page with pictures of Amazing Bridges from Around the World. I recognize many of the bridges but many of them are new to me and the pictures are just awesome.
Sometimes we just have to stop and smell the roses. It is worthwhile just to look at beautiful pictures taken of things some of us might take for granted. Some of these bridges, like the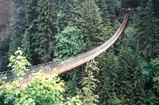 Capilano Suspension Bridge (image to right) - which is local to me - are specifically intended to be there to be appreciated or at least there for the appreciation of the beauty of their surroundings.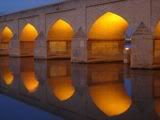 There are other bridges that are marvelous and special for historical and archeological value as well as aesthetics. The Amazing Bridges from Around the World page has bridges like those and all sort of other amazing bridge images as well. The place where I might fault the page with is that there are no captions to go with the images and along with captions credits for the photos.
There are gems like these to be found around the web and they are - I believe - really in the form of blogs, though being used for special purposes. Another I perused today was of the
10 Tallest Waterfalls On Earth (image to right)and was also a great collection of waterfalls, some familiar and others unfamiliar all illustrated by great photos.
Probably I won't see most of these places, but I can dream and I can look at the pictures others have taken. I can even go to some places both near and far and take my own pictures to share with others and it is much, much easier to share what I see and hear today than ever before... of course there is also so very much more to go through so in a sense even as the World is growing smaller... it is also growing larger by leaps and bounds. We might need more bridges
Later!
~ Darrell.
62.